Wedding Bands Ireland Prices
Wedding bands Ireland prices 2020: How much does a wedding band cost in Ireland and why??
Plus bonus material: Average wedding ceremony music cost, DJ and drinks reception music prices. Your full & extensive guide to wedding music prices in Ireland is right here ??
---
Let's Jump In
We've noticed over the years how often newly engaged couples inquire on groups and forums about wedding band prices and the cost of wedding bands in Ireland.
You're probably wondering where do I start! Right? Maybe you're thinking: why are they expensive??
In this research, we delve deep into what you can expect to pay for your wedding band in 2020 and why.
We also give you the 4 factors that influence wedding band prices and what your final cost may be.
What does the average wedding band cost in Ireland? How much can I expect to pay in 2020?
The short answer: the average wedding band cost/price in Ireland for 2020 according to Weddings Online Survey was €2,182.
Remember, this figure is just a rough average and it can vary greatly depending on the size of the band you prefer, or is within your budget. For example, a 7 piece band is generally going to be more expensive than your average 3 piece band.
But that's not the only credible study that has been conducted by a prominent online directory, according to research undertaken by OneFabDay, the average paid for a wedding band and DJ was in the region of €2700 euro.
You can see there's a difference of a couple of hundred euros between both surveys, if you exclude the DJ from the One Fab Day results, again, they are reflecting the average, the research conducted by both leading directories is exceptional.
But given the nature of how broad the wedding market is, it doesn't take into account some other important variables and your unique requirements that may influence your final cost, which we'll talk about later.
So, to really give you a detailed answer, we've taken it one step further and compiled a wedding band price list based on validated data and research conducted from 2017 to 2020.
Wedding Bands Ireland Price List
| | | |
| --- | --- | --- |
| Line Up | Wedding band/Agency | Average Price |
| 1 man band | Wedding Band | €320-550 |
| 1 man band | Agency | €450-650 |
| 2 piece band | Wedding Band | €465-800 |
| 2 piece band | Agency | €650-1200 |
| 3 piece band | Wedding Band | €750-1400 |
| 3 piece band | Agency | €1200-1600 |
|  4 piece band |  Wedding Band | €1250-2400 |
|  4 piece band |  Agency | €1800-2950 |
|  5 piece band |   Wedding Band |  €1600-2600 |
|  5 piece band |   Agency |  From €2000 |
|  6 piece band |  Wedding Band |  €1800-2750 |
|  6 piece band |   Agency |  From €2500 |
|  7, 8,9,10 piece band |  Wedding Band |  €2350-5000 |
Wedding band price list featuring average wedding band cost per line up, agency and band
Wedding Ceremony Music Prices (credit WOL surveys 2017-2020)
| | | | | |
| --- | --- | --- | --- | --- |
|  Service |  2017 |  2018 |  2019 |  2020 |
|  Ceremony |  €376 |  €440 |  €475 |  €485 |
 Average spent on wedding ceremony music has been increasing steadily since 2016.
Average Wedding DJ Prices(credit WOL surveys 2017-2020)
| | | | | |
| --- | --- | --- | --- | --- |
|  Service |  2017 |  2018 |  2019 |  2020 |
|  DJ |  €416 |  €434 |  €456 |  €498 |
The same goes for DJ music, with couples opting to spend more in 2020 and the previous four years
There are other important factors you have to take into account when determining what you can expect to pay, which we'll jump into in detail now, so keep reading.
4 Factors that influence wedding band prices in Ireland
Number of musicians in the band
Distance
Day of the week
Validation
1. Number of musicians
 An obvious factor that influences wedding band prices, it's expected that a 6 piece wedding band costs more than your standard 3 or 4 piece band, more musicians= more fees.
This also comes down to preference and priority, some couples priority will be the entertainment for the guests, they will not blink an eye hiring a 6 piece band, or a wedding band with brass, others may prefer to spend the resources elsewhere. It comes down to a personal choice.
2. Distance
 Involves the distance from your wedding venue to the suppliers base. Generally speaking, wedding suppliers might travel free for the first hour and apply a 50 euro charge for every hour thereafter.
Travel expense example
| | | | | |
| --- | --- | --- | --- | --- |
|  6 piece wedding band | Base | Your wedding venue |  Distance from band base to your venue |  Expense added on top of band price |
|  Band Price €2,490 |  Cavan / Westmeath |   Clonakilty |  700 km round trip | € 350 |
3. Day of the week
This may have a positive effect on your wedding band price, it's widely understood that wedding bands and suppliers can be much more flexible with their prices on days that are not deemed to be in high demand.
Which days of the week?
Would generally apply to midweek weddings, weddings taking place from Monday to Thursday. For suppliers who do offer this flexibility, the customer can expect to save anywhere between 10-20% off their quoted wedding band prices in most cases, possibly sometimes more if you drive a bargain
Midweek wedding band prices Example
| | | |
| --- | --- | --- |
|  6 Piece Wedding Band Price |  Midweek deduction 100 euro |   Midweek Price/Cost |
|  €2,490 |  €100 | € 2,390 |
Table outlining the average cost of wedding bands for midweek weddings
However, there's one day of the year that incurs a larger price and that's New Year's Eve. You may expect to pay an additional 10-25% for the option of having your wedding on this desirable date.
It's considered a night when people (including musicians) may want to spend time with their family and friends, they are sacrificing their time and personal life on that special day to work, and just like in any other job, the employee would be remunerated to reflect this.
New years eve wedding band price list example
| | | |
| --- | --- | --- |
|  6 Piece Wedding Band Price | New Years Eve Fee |  New Years Eve Price |
| €2,490 | €600 | €3,090 |
Table outlining New years eve wedding band price list
4.Validation & Demand
Couples value wedding suppliers who have strong customer reviews and validation. Bands who have a proven track record with a large selection of live videos of weddings, verified customer reviews and a wedding award thrown in to boot, can expect to have much stronger demand than their competition.
Cost of wedding bands has been increasing
According to data obtained from the Weddings Online surveys over the last 4 years, wedding band prices and costs of wedding suppliers, in general, have been on the rise.
We can see from the table/wedding band prices Ireland has seen a marked increase year on year
| | | | | |
| --- | --- | --- | --- | --- |
|  Service |  201 |  2018 |  2019 |  2020 |
|  Ceremony | €376 | €440 | €475 | €485 |
|  Band | € 1,890 | € 1,998 | € 2,150 | € 2,183 |
| DJ |  €416 |  €434 |  €461 |  €498 |
Table demonstrating that the average cost and spend on wedding bands has been increasing( Credit W.O.L surveys 2017-2020)
This has been in line with the average total wedding budget increase.
Figures from the weddings online surveys from 2013 to 2019 seem to indicate that wedding budgets have grown consistently, with the most notable increases taking place from 2015-2019( 21,219 euro-28,462 euro).
| | | | | | |
| --- | --- | --- | --- | --- | --- |
|  Year | 2016 | 2017 | 2018 | 2019 | 2020 |
| Average Wedding Budget |  €22,531 |  €24,427 |  € 26,015 |  €28,462 |  €29,642 |
The average cost of a wedding and spend has increased( Credit WOL surveys 2016-2020)
Why are wedding band prices so high?? Are wedding suppliers ripping us off?
It does come up from time to time and at face value, I can see why couples might think this, but I've yet to meet a wedding supplier who was swimming in money. Or driving the latest Mercedes Benz, unless it's a long-wheelbase sprinter that's clapped out from one too many Killarney weddings.
It's a living wage for most suppliers
Most are just trying to make a living, they only have a few days a week to earn that income and weddings are seasonal with high and low peaks throughout the year.
There are high costs associated with advertising and running a business in a crowded market place, with all the trappings that come with it being a sole trader or limited company.
Weddings are expensive
WHY?
The short answer to this is that wedding suppliers tend to spend a lot of time on-site, a huge amount of effort and qualification goes into the preparation of a customers wedding.
It's not a trade or profession where you can just rock up and start providing your services, it takes years of validation and attention, and no matter how good you are, you're only as good as your last gig.
You have to be invested in your service and give your customer the best experience, answering calls out of hours and going the extra mile, which is always a requirement.
There's also the associated costs and overheads of running a business, which, like any enterprise, have to be factored into the price in order for it to be viable.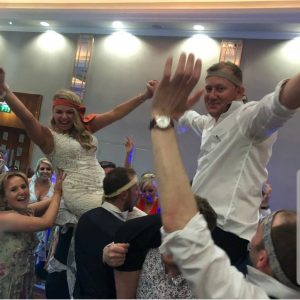 Brides and Grooms are heavily invested, financially and emotionally in their special day.
Naturally, there's a strong obligation on the supplier to become a part of that commitment, to provide exceptional service, to help you achieve your goals for your wedding and rightly so.
A wedding is an important life-changing occasion, that requires the experience and expertise of qualified, validated professionals.
You get what you pay for, right?
This generally tends to be true!
The easiest way to find out if a band is worth the money they are charging is to simply view them at a wedding band showcase and search independent wedding band reviews to educate yourself, view as many as possible and you'll be able to separate quality from the mediocre and the poor very quickly.
How To Get The Best Value Possible
 Research
Do your homework! Compile a list of bands you like and get their prices and all associated costs, measure from what they charge but also from the return you can expect to get in the form of entertainment value.
You can only gauge and get a sense of this by seeing them perform live and engaging with them 1-on-1. Focus on the music, see how attentive they are to your questions and if you can clearly obtain an honest and truthful view of what they can provide.
Haggle
Yeah, I just said it! You wouldn't think an ancient word like that would still exist in post bust, back to boom Ireland, but it still has its place, here's why:
Let's say you've left it little late to pick your wedding band and most seemed to be booked up, not something we'd recommend but it's more common than you'd think!!
You might have leverage
For the bands that are available, the likelihood of them filling the date on relatively short notice is unlikely(not impossible) and like all businesses, they'd prefer to be earning on a potential work night. See what you can negotiate and work together, the chances of you coming away with a deal are pretty good.
I REALLY wouldn't recommend leaving it on the long finger to book your band though! The more time you have at your disposal equals more options, which will ultimately lead you to a better choice of quality bands and value and more manoeuvrability when it comes to wedding band prices.
 It ultimately comes down to your preference and priorities and what you can afford
It comes down to what you can afford but also what you consider to be good value. Some couples would have no hesitation spending €3000 or €4000 euro on a band, they may place more importance on entertainment and the potential lasting impression and memories it can produce.
For these couples, it represents a good return on their investment, and yes, they may have deeper pockets too! Others couples would prefer to spend that extra cash on their honeymoon, so it comes down to your preference and priorities too.
What Do We Charge?
We"d like to think we offer good value for a 6 piece band, considering we have a line up featuring male and female vocals with a two-piece brass section as standard.
Live Band
This lineup features Female and male vocals as standard with the added colour of a live brass section featuring trumpet and as the name suggest sax. We don't hide our brass in the corner, we bring them to the fore to knock your party up a gear. Our set lasts for up to 3 hours and costs: €2.490
Jazz Reception Music
Featuring our smoking hot brass section and keys. They'll take you back to another era with cool sophisticated jazz, funk and modern pop numbers covered in a funky style. This is a great way to chill right after the wedding when you and your guests are sipping your drinks. It certainly makes an impression and sets the tone for a great evening to come: €300
DJ
This is one of our most popular options and it's easy to see why. Our DJ kicks in right after the band play their last beat! No momentum is lost on the dance floor. This option provides a seamless transition from the band right into DJ to keep you and your guests dancing well into the small hours of the morning€350
Sax DJ
Featuring DJ with one of our pro saxophone players, no one does Sax DJ better than Sax and the City!! Playing all the best club tunes and classics, adding a  burst of energy to your late-night party, transforming your dancefloor into a high octane nightclub with rip-roaring Sax solos, bringing a unique twist to your wedding party! € 750
Some info about the author: Ronan Corrigan
Ronan is a professional trumpet player and digital marketing expert, he's also a serving member of the Irish Defence Forces as a professional trumpet player, he's an experienced wedding supplier with over 10 years of industry experience to date.
" Our objective is to give you the best experience possible for the best value possible, your wedding party has to be anything but ordinary, it has to be awesome!!"
Wedding band Prices Ireland
This article was written as a guide to help you on your journey and answer your queries in relation to wedding band prices & average wedding band cost. The wedding band price list we've included is a general guide, but it's a good indication and starting point.
Wedding band prices Ireland vary for multiple reasons, as with any other service or product, research is key. Thanks for reading wedding band prices Ireland 2020, we hope it was of benefit to you.